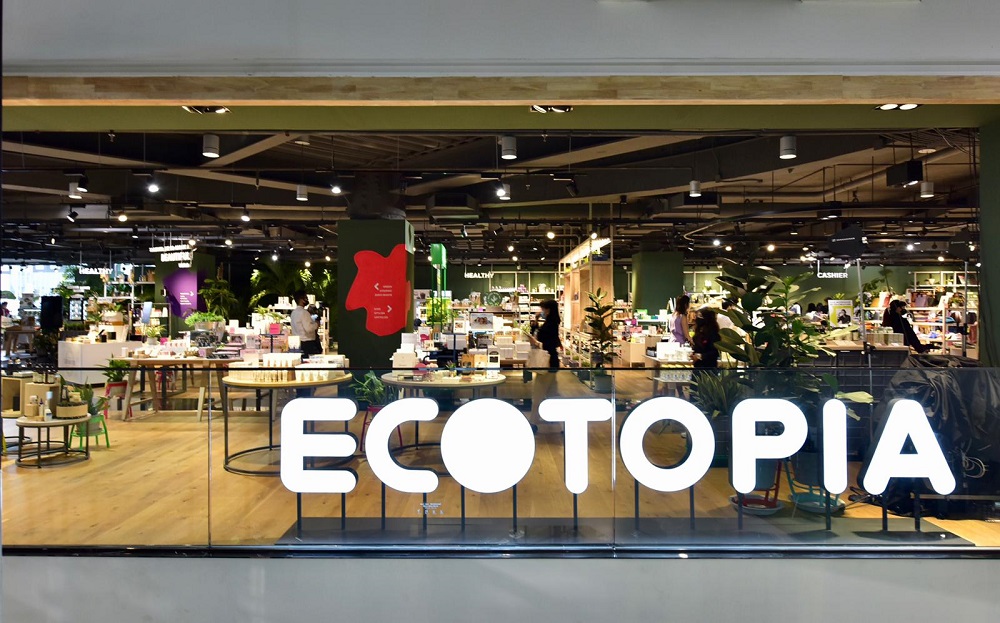 Pioneering revolutionary new style of retail format to foster a retail ecosystem that brings nature lovers together to co-create a better world.

Siam Piwat Group, a leading real estate and retail developer, the owner and operator of Siam Paragon, Siam Center, and Siam Discovery, and a joint venture partner of ICONSIAM and Siam Premium Outlets, has marked another milestone of success in its sustainability-led business operations as Ecotopia has been ranked among Asia's 20 Coolest Retailers by Inside Retail, Asia's leading retail publication that honors inspiring, distinctive, and innovative brands, in the sustainability/department store category. As a mecca for eco-conscious customers, Ecotopia highlights Siam Piwat's business model under the strategy of co-creating shared value to bring mutual benefits for all parties.
Ms. Usara Yongpiyakul, Chief Executive Officer – Retail Business Group, Siam Piwat Co., Ltd., said, "We are extremely proud that Ecotopia has made the list of Asia's 20 Coolest Retailers by Inside Retailers. It's another achievement of Ecotopia for receiving an international recognition.
Ecotopia was created with the intention to build a green community and make a difference in the world (Together, We Co-Create a Better World) with various methods and approaches, including reducing waste generation, increasing reuse, looking at nature from a fresh angle, and restoring value to waste. Ecotopia offers a truly comprehensive range of eco-friendly products that can easily find in one place. This ranking marks a vital step in accomplishing our mission to drive sustainability under the concept of co-creating shared value for all, which has been integrated into our business models and daily operations in every project."
Inside Retail states that Ecotopia is a revolutionary new style of department store which focuses entirely on fostering a retail ecosystem that promotes eco-friendly products designed specifically to address the lifestyle needs of sustainability-minded consumers. Ecotopia not only offers products that are safe for the environment but also shows its customers how to make the most out of them. This includes allowing customers to bring their own containers for refills, educating them on a waste-free kitchen, and providing a venue for eco-workshops where consumers can transform waste into art or materials for organic gardening. As such, Ecotopia has created a community for the eco-conscious that empowers creative minds and promotes resource efficiency in order to ensure sustainable co-existence with nature and make a difference every day.
Located on the 3rd floor of Siam Discovery, Ecotopia boasts products from over 300 eco-friendly brands and is divided into eight major zones: 1) Hygiene – the hub of cleaning products made from natural ingredients or biodegradable materials; 2) Zero Waste – a refill station where customers can bring containers to get their refills; 3) Green – the center of air-filtering plants and gardening equipment; 4) Healthy – the zone featuring healthy food made with organic ingredients; 5) Beautiful – an area where customers can find organic beauty and personal care products with natural essence; 6) Up-cycled – the section featuring products made from recycled materials; 7) Stylish – the hub of organic cotton fashion; and 8) Kind – the zone that offers handicrafts and products made with natural ingredients by local artisans to generate revenue for communities. Ecotopia is also home to exclusive concept stores featured on Asia's 20 Coolest Retailers list from various countries, including Pop Mart and I Do from China, Musinsa and Gentle Monster from South Korea, Seeson from Vietnam, and Ambush, a Japanese brand that just launched a boutique shop in Shanghai.
Ecotopia's inclusion on the list of Asia's 20 Coolest Retailers by Inside Retail testifies to Siam Piwat's success in driving its business development strategies that focus on being the leader in catering ever-shifting lifestyle needs of new generation and on enabling its businesses to create value to people, communities, society, and the world, in line with the concept of business operations towards sustainability.