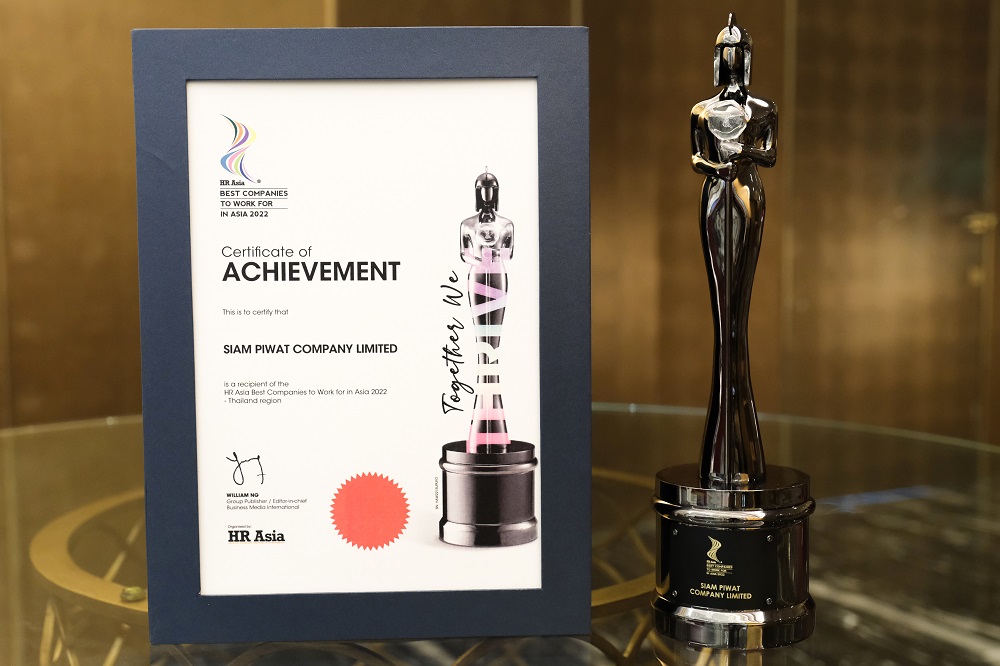 - The prestigious award reflects Siam Piwat's excellence in human resource management and promotion of employee engagement.
- The honor highlights Siam Piwat's forward-thinking corporate tenets and adaptability.
Siam Piwat Co., Ltd., a leading real estate and retail developer, the owner and operator of world-class projects such as Siam Paragon, Siam Center, and Siam Discovery, a joint owner of ICONSIAMand Siam Premium Outlets Bangkok, has been named HR Asia Best Companies to Work for in Asia 2022, held by HR Asia, a leading magazine on human resources in the region. The award program recognizes organizations with excellent HR practices and employee engagement, in line with Siam Piwat's position as the Visionary Icon and determination to create a robust corporate culture that empowers limitless possibilities for employees, reinforcing its forward-looking corporate tenets and adaptability to all changes that will enable it to move steadily forward into the future.
Ms. Amporn Chotruchsakul, President of Business Support, Siam Piwat Co., Ltd., stated, "We are very pleased and honored to have been named by HR Asia as one of the best companies to work for in Asia. This award speaks to our unceasing effort to elevate our HR management and develop our personnel so that they are well-prepared for changes in the world today and grow alongside the organization. Through over 63 years of our operation, we have developed our businesses in pursuit of our vision as the Visionary Icon with commitment to co-creation of shared value. We have been working with various partners to attract new generations to join us as we develop a newand more agile business model where our employees are given opportunities to take part in formulating strategies and to propose ideas and plans while also promoting self-development through training and education to empower limitless possibilities."
The Best Companies to Work for in Asia 2022 is an awardprogram organized by HR Asia Magazine of Business Media International, Malaysia in 13 markets across Asia. , The assessment survey is conducted on employees using the Total Engagement Assessment Model (TEAM), which consists of three factors of employee engagement, namely 1) CORE: Collective Organization for Real Engagement, 2) SELF: Heart, Mind & Soul (individual-level engagement) and 3) GROUP: Think, Feel & Do (group-level engagement, encompassing collective consciousness, workplace sentiment, and team dynamics).
Corresponding with HR Asia's award criteria, Siam Piwat's HR management approach truly places emphasis on fostering employee engagement by creating a way of working for the future, cultivating the "work as one" spirit that promotes a sense of solidarity, planning career development, and engaging in employee recognition. Siam Piwat has also been working to create a corporate culture of agility and introduce a campaign to avoid meetings on Friday while also providing employees with welfare and benefits. In addition, Siam Piwat has initiated the Change to Shine program, under which employees take the role of visionary and daring Change Warriors who work to take the organization towards bigger goals and create the next big thing in the future.
"This recognition on an international platform will serve as a vital force that drives us to maintain our HR excellence across all dimensions because our staff play an integral role in driving our sustainable growth going forward," added Amporn.