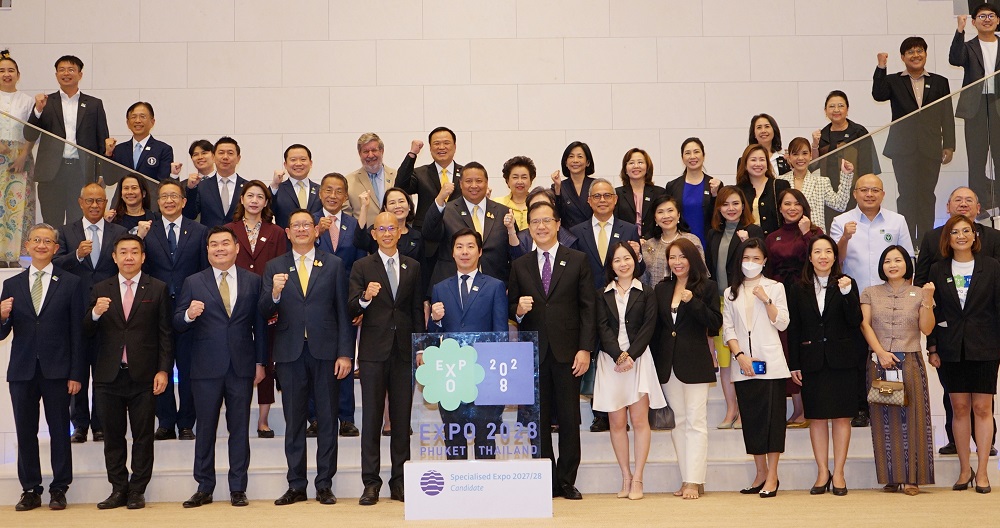 Siam Piwat Group has joined forces with Thai private sector leaders to support Thailand's bid to host the 2028 Specialized Expo under the name "Expo 2028 Phuket Thailand," based on the proposed theme "Future of Life: Living in Harmony, Sharing Prosperity." The four other candidate countries that have met the criteria of the Bureau International des Expositions (BIE) are the United States of America, Servia, Spain, and Argentina. Based on the votes of the 171 member countries of the BIE, the host country will be selected and announced in June 2023. If Thailand is granted the right to be the host, it will be the first world-scale expo ever held in Southeast Asia and benefit Thailand in four main areas as follows.
1. Economic benefit: It is expected that the Specialised Expo will attract 4.92 million visitors from 106 countries, generating a circulation of over 49.231 billion baht in revenue and more than 39.357 billion baht in value to the country's gross domestic product.
2. City development: The Specialised Expo will enhance the development of Phuket and beyond, particularly the provinces in the Andaman cluster – Krabi, Trang, Phang Nga, Phuket, Ranong, and Surat Thani. This world-scale event is expected to help distribute foreign visitors' spending to other parts of the country as well.
3. Country image: The Specialised Expo will enhance Thailand's reputation as the Medical Hub of Southeast and South Asia and promote medical tourism in different areas across the country with the ultimate goal of Thailand becoming an international hub for medical tourism.
4. Management and area development: Buildings and structures constructed for the Expo will be repurposed into a Comprehensive International Medical and Public Health Service Centre, International Geriatric Centre, Jairak Centre (Palliative Care), and Comprehensive Rehabilitation Centre. These developments will contribute to the advances in medicine, health, and well-being and will be supervised by the Vachira Phuket Hospital. An international convention centre and ecological park will also be developed on the site.
Siam Piwat Group will be supporting public relations initiatives to foster a sense of solidarity among all Thais through the media platforms across its businesses and shopping centers, namely Siam Paragon, Siam Center, Siam Discovery, ICONSIAM, Siam Premium Outlets Bangkok, and on ONESIAM SuperApp as well as communicate to its personnel in order to galvanize and mobilize them in support of Thailand's bid to host Expo 2028 Phuket Thailand.
You can support Thailand's bid to host Expo 2028 Phuket Thailand at: https://support.expo2028thailand.com or by scanning the QR code below.