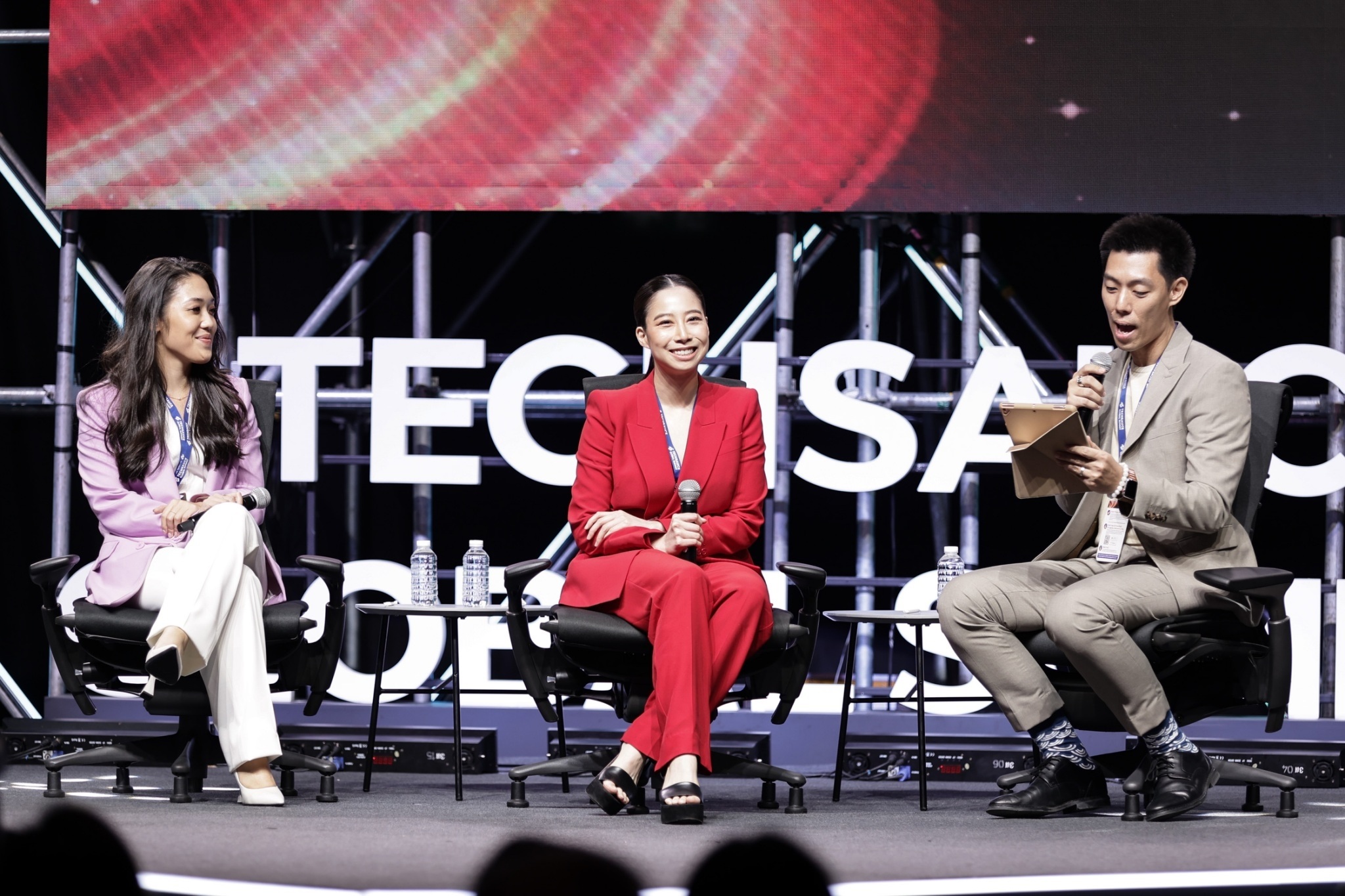 At the Techsauce Global Summit 2023, one of Asia's biggest tech conferences of the year, Siam Piwat, the leading real estate and retail developer, announced its position as Thailand's first RetailTech company to develop a global ecosystem through ONESIAM SuperApp – a groundbreaking phenomenon brought to life in collaboration with renowned partners and suppliers. Siam Piwat would also gear up to expand its business towards Web 3.0 to deliver experiences beyond expectations in the real world, the digital world, and the virtual world in order to win over Thailand's most affluent customer base and secure the top-of-mind position across the globe.
Chayapa Chutrakul, Chief Executive Officer of The Pink Lab and a Web 3.0 consultant, and Momori Hirabayashi, Business Development Web 3.0, Siam Piwat Co., Ltd., participated in a panel discussion entitled "NFTs in the Retail World" at the Techsauce Global Summit 2023 to update the attendees on the trends of utilizing Web 3.0 to develop customer experiences in the luxury retail segment and share the success of the Web 3.0 projects that Siam Piwat has developed with its partners to create unprecedented phenomena.
Chayapa Chutrakul, Siam Piwat's Web 3.0 consultant, said digital technology has made an immense impact on customer lifestyles, particularly during the height of the COVID-19 pandemic, as it has opened up new channels for interacting with customers through the digital world as well as boosting their sense of excitement and enabling customers to recognize products in the actual malls, all this at their fingertips. To create diverse shopping experiences, retail businesses are increasingly turning to Web 3.0 technology, especially the use of non-fungible tokens (NFTs), which connect the parallel offline-online worlds to the virtual world or the Metaverse. With regard to this, data plays a vital role in the design and strategic planning for gaining insights into the behavior of shoppers. This is particularly true for the use of NFTs to tell the story of the brand in varied ways, cater to personalized needs, and develop loyalty and reward programs that various brands can use to create an emotional engagement with customers and win their hearts.
"Web 3.0 is a global phenomenon that can be used to expand businesses and generate income. It is the future of lifestyles and living trends and has the power to change how social media is used and how brands can tap into new customer bases. Both Web 3.0 and NFTs are not only for Gen Z but for Gen Y and Gen X as well, because digital technology will change the new way of lifestyle and the way they communicate digitally. In the same vein, luxury brands are adopting Web 3.0 technology to tap into and engage with a new generation of customers," said Chayapa.
As a digital strategy consultant specializing in digital marketing, loyalty programs, Web 3.0, and innovations, The Pink Lab, at its core, seeks to build a business through fun presentations. By utilizing online data, the company assists businesses in brand-building and introducing novel experiences to their industries. The Pink Lab teamed up with Siam Piwat in its collaboration with the global partner ZEPETO to create an unprecedented offline-to-online (O2O) experience in the digital world – the world's first-ever Songkran festival in the Metaverse where visitors could transcend all geographical limitations and immerse themselves in the festive spirit of Songkran without the limitations of geographical boundaries. This partnership also put Thai fashion into the virtual world as part of the Bangkok International Fashion Week 2022 at Siam Paragon, where customers could purchase the latest collections off the runway and buy the same items to customize their avatars in the Metaverse and share the photos on social media.
Momori Hirabayashi, Business Development Web 3.0, Siam Piwat Co., Ltd., said that as a leader in the luxury segment dedicated to launching co-creation projects with all stakeholders, including retail stores within its shopping malls and customers, Siam Piwat strives to deliver experiences that exceed all expectations across all its venues in the physical world as well as connect these experiences to the digital and virtual worlds in the Metaverse – a mission that will maximize benefits for customers and resonate with tech-savvy consumers.
Another key mission of Siam Piwat is to Win the World for Thailand. As part of this mission, the company has joined forces with NIMIT and Cryptomind in the Fight for the Future Project to launch a digital land for Thai people on the virtual platform Sandbox, featuring a simulation of Siam Discovery, as well as introduce Thai boxing to the virtual world in the form of a game, making Siam Piwat the first company to create Thai boxing experience on a virtual platform.
"It is necessary for non-Web 3 companies to collaborate with Web 3 companies to share knowledge. We really encourage multiple partners to come together and create Web 3 experiences and benefit from these amazing technologies," said Momori.
Web 3.0 is the next generation of decentralized internet where users can directly communicate with each other, with blockchain used for privacy protection. The Metaverse is a platform in the Web 3.0 world that will revolutionize the shopping experience and bridge the real and the virtual worlds. On the other hand, NFTs have emerged as a new marketing tool for boosting customer engagement and catering to personalized needs. Their versatility allows for a wide range of applications, from collecting digital assets that give users ready access to benefits and privileges to authenticating membership for access to member-only communities.
As a leader that has revolutionized the Thai retail industry and pioneered unprecedented ideas, Siam Piwat has reinforced its position as Thailand's first RetailTech company to develop a global ecosystem through collaboration with over 50 Thai and international partners and suppliers across 13 industries.
"However, to adopt digital technology as a tool in modern marketing, it is important for a business to truly understand the technology, identify opportunities and objectives where it can play a role in the value chain within the ecosystem, as well as evaluate all risks involved. This is because not every business can seize the opportunity and take the risks. Therefore, it is advisable to explore new ways to engage customers in the long term without abandoning the existing customer base. This includes generating income from a new ecosystem and ramping up competition with various platforms across the world," added Chayapa.