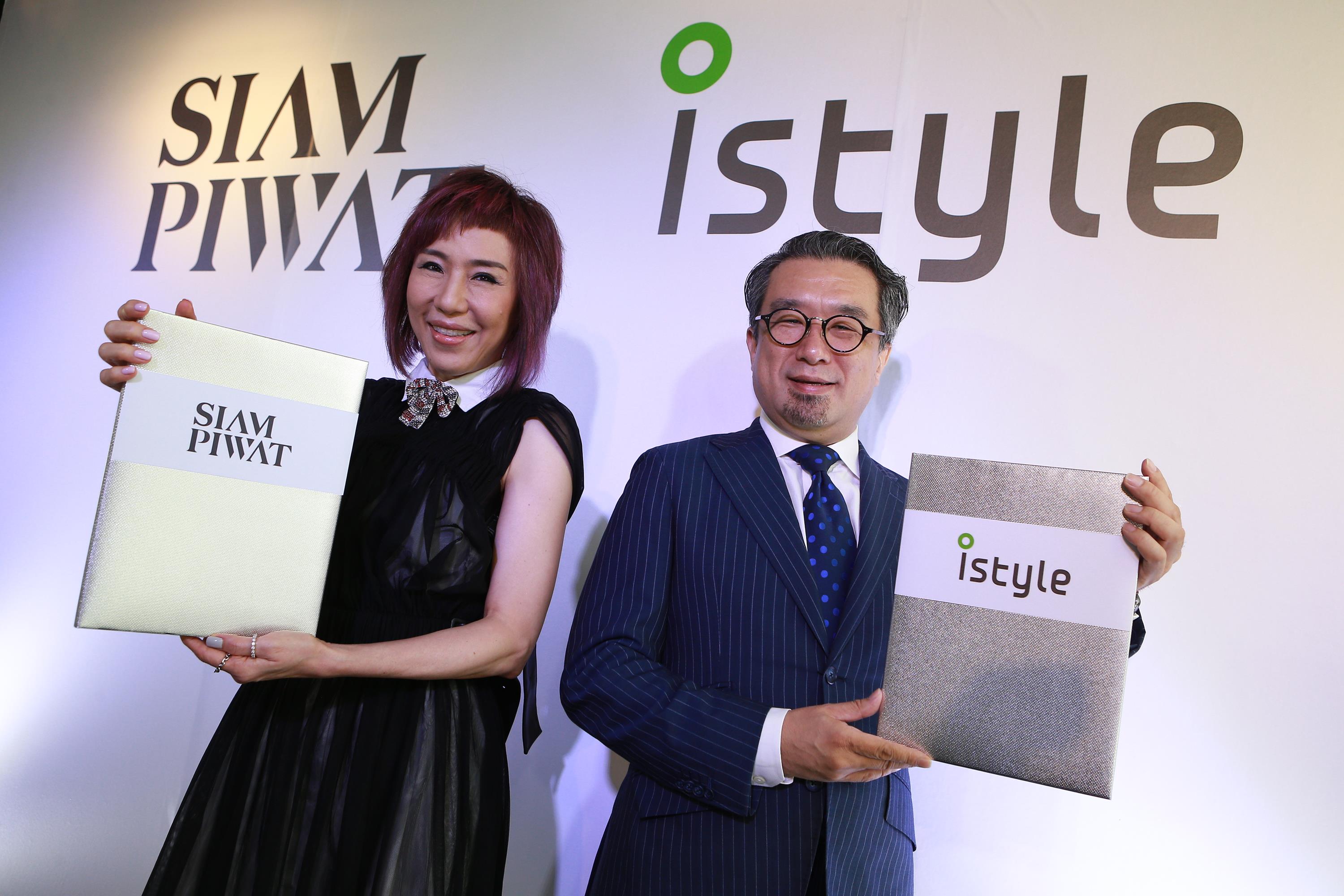 Siam Piwat Group, the owner and operator of prestige retail developments in Bangkok such as Siam Paragon, Siam Center, Siam Discovery, and joint venture partner of ICONSIAM, today, announced that it has entered into
a joint venture with Tokyo Stock Exchange listed istyle Inc. of Japan which has Japan's largest cosmetics review and ranking media called "@cosme" and retail '@cosme store' opens its first '@cosme store' in Thailand at ICONSIAM.
The joint venture, called istyle Retail Thailand Co., Ltd., is formed as a 70%-30% partnership between istyle Group and Siam Piwat Group, respectively.
Ms. Usara Yongpiyakul, chief executive officer of Siam Piwat Retail Holding Co., Ltd. said, "@cosme is
a phenomenon in Japan that has taken the entire beauty sector by storm. Two out of every three Japanese 20-30 young women use the portal for beauty advice. "
Mr. Hajime Endo, Senior Vice President of Beauty Service, istyle Inc., said, '@cosme store' will offer a wide range of popular Japanese cosmetic brands. In what redefines cosmetics shopping experience with cosmetic rankings which is based on big data of "@cosme". Moreover as we will prepare testers for almost all products, customers can try products they like and seek advice from professional beauty consultants to find the ideal cosmetics for individuals that the brand calls 'Discover, Experience, Your @cosme'.
"Currently, '@cosme' has over 14 million consumer reviews covering some 300,000 items across 32,000 brands and provides an incredibly rich and reliable source of information for all consumers. We make use of their data to create a sales floor. ".
Mr. Endo said, "We now operate 25 stores in Japan. Last year, we began extending our concept to other countries, opening our first overseas store in Taipei in May 2017, and, in the last fifteen months, we have opened a further four @cosme stores in Taiwan and Hong Kong."
He said, "In expanding to Thailand, Siam Piwat is the right partner for us because of their proven success with revolutionary retail concepts and their commitment to innovation in retailing."
Ms. Yongpiyakul said, "Siam Piwat believes in partnerships and collaboration as the best way to succeed in the fast-evolving retail environment. Partnering with a very successful 'new-world' company such as istyle is in line with Siam Piwat's mission to be a thought-leader in retailing that is always first with new retail concepts, as well as always brings new brands to consumers. The @cosme retailing concept that merges online consumer engagement with offline sales is extremely innovative and will be exciting for Thai consumers. Next to that, this joint venture will facilitate the arrival in Thailand of many new, high quality Japanese beauty brands that have never been available to consumers in Thailand before."
Ms. Yongpiyakul added that the @cosme business will further strengthen Siam Piwat's retail portfolio, which already includes the Loft, Korean lifestyle store ALAND, multi-brand decorative store ODS, and multi-brand casual wear store CAZH, among others.
She said, "The joint venture generates additional opportunities for diversified growth for Siam Piwat, in addition to growth from our core business of developing world-renown destinations."
iStyle Group has been growing very rapidly, with sales of the fiscal year ending June 2018 leaping 50.7% from the previous year and reaching around Bht 8,557 million (JPY 28,470 million).
@cosme's flagship store in Japan is located in Tokyo's Shinjuku district and recorded sales of over Bht 40 million a month in 2017. It is highest sales as cosmetics specialty store in Japan.
The average @cosme store is around 200 sqm. 1million visitors per a month in all Japan's stores, and carries around 7,000 items that are largely Japanese. Products are priced from as little as Bht 200 to about Bht 4,000. Skincare and base products are the most popular and its account for almost half of total sales ratio including make up items. In Thailand, the flagship store at ICONSIAM will have 300 sqm of floorspace.