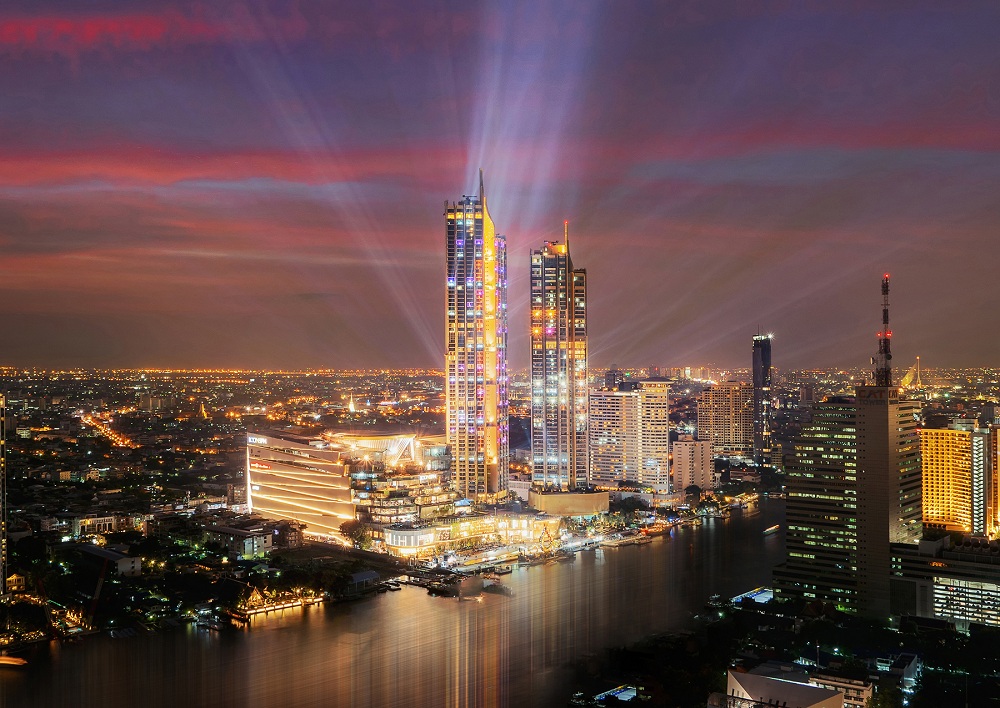 - Ground-breaking collaboration brings to life ICONSIAM as a destination like no other and a revolutionary mega development under the concept of 'Creating Shared Value' and 'Co-Creation' on a scale never before seen

- Get excited with global iconic stores of the world's greatest luxury brands created with one-of-a-kind architectural designs

- First presence of over 7,000 leading global and Thai brands with new concepts offering super special items exclusively at ICONSIAM
- Celebrate with full-on promotions from 9 Nov 2018 to 20 Jan 2019 when every purchase is eligible for multiple prizes worth over Bht 20 million.And special offers for 10 Nov 2018, every Bht 10,000 spent is eligible for a refund of up toBht 20,000
Bangkok (9 November 2018) – ICONSIAM - the Bht 54 billion (US$1.65 billion) mega city project of future living, today, opened as an iconic landmark of Thailand's eternal prosperity on the Chao Phraya River.It comprises two of the most glamourous retail complexes ever in the region, two of the most luxurious residential towers and the Seven Wonders at ICONSIAM.A new chapter of 'destination development' history has been written with the opening of a project destined to be a great destination where the best of Thailand meets the best of the world.The opening of ICONSIAM also marks the bringing to life of the concept of 'Creating Shared Value' and 'Co-Creation' on a scale as never before been seen anywhere in the world.The opening of the mega development was celebrated with the most spectacular shows and performances that symbolized how Thais have united with the world's greatest talent to create a riverside phenomenon that has brought the whole world under a spell.
Mrs. Chadatip Chutrakul, Director, ICONSIAM Co., Ltd., said, "ICONSIAM is a destination born out of a great joint creative effort that has united the hearts of Thai people from many different walks of life.These people are capable and knowledgeable.They are from local communities around the country, some are from the business sector and others from the public sector.They include experts in various disciplines from many countries who love Thailand and want to contribute to a new symbol that can represent the vision of an era and be something that makes Thai people feel proud of being Thai, helps preserve and present Thainess for the next generation, while also making visitors from around the world fall in love and be impressed with Thailand."
She said, "ICONSIAM was created out of a strong desire to present all that is great about Thais and Thailand.There is an unprecedented scale of collaboration between Thai artists and experts from all around the world who have come together to create and construct each detail of ICONSIAM.As Thais, we are also proud that the world's leading fashion and luxury brands trust and see the value of Thainess and have a truly impressive presence at ICONSIAM.They collaborated with ICONSIAM by thinking outside of the box and also collaborated with Thai artists, allowing them to create masterpieces that will glorify aspects of Thainess within their stores, for example, by using Thai silk or other Thai materials to decorate their shops.It is a phenomenon that has never happened before in the world by these super brands."
"ICONSIAM is a city that is the centre of a vast array of wonders in art and culture.It offers the best in shopping and entertainment made possible by a collaboration of business organisations both big and small.They come in all sizes and types.A lot of individuals have come together from different professions.They share a desire to build a venue where all that Thais are proud about can be presented as well as be a place where all great things from all corners of the world are on full display.They come together to build a new icon which will become a mega phenomenon that will unite all stakeholders and spread prosperity to communities, society and the nation.It is a new-world business concept that seeks to create shared value for every stakeholder to grow together in a sustainable fashion.ICONSIAM is that concept turned into reality on a scale that has never existed before anywhere in the world," said Mrs. Chutrakul.
Exemplifying how the new-world business concept is used to create shared value so all stakeholders can grow together sustainably are the Seven Wonders at ICONSIAM, namely:
1.River Park – This massive riverside community space is designed for daily use by community members.It takes advantage of the picturesque landscape of the Chao Phraya River to create an amazing and expansive community space covering over 10,000 square metres along the river.The park is open to the public every day, particularly benefiting members of surrounding communities and visitors from far and wide who love and admire the river's atmosphere.
2. Iconic Multimedia Water Feature – This multimedia feature, which is the longest in Southeast Asia, is designed to be a global iconic attraction that promotes tourism for Bangkok and Thailand.It will enable Bangkok to rival the world's leading metropolises just as the London Eye does for London and the Botanic Garden at the Marina Bay Sands does for Singapore.It will spark tourism for the Chao Phraya River in a major way.
3.SookSiam – This amazing town is Thailand's first co-creation space for local communities from the 77 provinces of Thailand to join together their creative capabilities and build a business platform and cultural space.A strong network was created by small business operators from local communities nationwide, local enterprises, artists from all regions and government agencies who are working together to create a town to showcase popular products and cultures that are the pride of individual provinces.SookSiam serves as a platform for local products to be further developed with merchandising and marketing ideas to help them penetrate international markets.
4.TRUE ICON HALL – The state-of-the art and technologically most advanced auditorium in Thailand will have a far-reaching impact on businesses along the Chao Phraya River and will benefit Thailand's MICE industry.The venue will be the first such facility in Thailand with world-class connectivity standards capable of hosting conferences requiring the most sophisticated equipment, concerts, international MICE events.It will help push Bangkok as a hub for international conferences.True ICON Hall is scheduled to open in July 2019.
5. Gold Line Monorail - The monorail system will support urban development with road-rail-river transport connections to elevate the public's quality of life.It is the first time in Thailand that a private sector mega-project developer has supported the building of a public mass transit system to mitigate potential traffic issues in the way that many other countries require of mega projects.ICONSIAM is also building 4 massive piers inside the project to provide complete road-rail-river connectivity and increase travel options for people living along the Chao Phraya River.
6. River Museum Bangkok – The venue provides cultural space in a commercial project to bring closer to the public's daily life access to world-class art from different countries.It is the first time that a world-class museum is being built in Thailand capable of accommodating important world-touring exhibitions.It is scheduled to open in July 2019 and will add to Thailand's cultural offerings.
7. Art Synergy Phenomenon - ICONSIAM houses masterpieces from more than 100 artists in all disciplines ranging from local artists from all regions of Thailand, including national artists, as well as world-class artists from different countries.These artists have come together to create masterpieces exclusively for ICONSIAM – the first time this has been done for a commercial project in Thailand at this scale.It gives Thailand's successful art community a platform to find international fame.Among the masterpieces featured at ICONSIAM are Painted Columns from the Four Regions of Thailand by master artists from the country's four regions, namely Songdej Thipthong, Meechai Suwansan, Anucha Oonchuang and Penthai Swangsri who created exquisite paintings that highlight each individual region's unique identities, ways of life, customs and traditions; Phi Ta Khon Sculpture by Chira Chirapravati Na Ayudhya, a famous artist and designer, who highlighted the fun, creative and emotionally colourful character of art in Northeast Thailand; and Prateep Ton Phueng by Krittapong Jaemchan.Nang Talung by Khun Vartee Sapsin, National Artist, who presents shadow puppetry in a new light.National artists who contributed their masterpieces to ICONSIAM also include Ajarn Preecha Thaothong, National Artist in visual art, who painted exquisite images on four 16-metre-tall columns; Ajarn Thavorn Ko-Udomvit, a contemporary art master, who contributed his sculpture forpresentation in commercial space for the first time.He created eight auspicious columns made spectacular with printing and silk screen techniques.A number of national artists in music also composed songs exclusively for ICONSIAM.The venue also showcases more than 400 photographs taken by Thailand's national artists.Famous international artists also contributed their masterpieces to complement creations by their Thai counterparts. It is the first time in history that Thailand has assembled so many artworks by Thai and international artists and presented them together.
Mr. Supoj Chaiwatsirikul, Managing Director, ICONSIAM Co., Ltd., said, "ICONSIAM has opened the door to a mega city full of 'superlatives' and 'first-ever' wonders.Many of the world's ultra-luxury brands have located their flagship stores in the stunning 25,000-square metre super luxury pavilion called 'ICONLUXE' which is situated next to the river and has the longest pillarless glass façade in the world.It is built with specially commissioned glass that is pleated around the building to create a nirvana of luxury worthy of the new landmark on the Chao Phraya River.ICONSIAM houses the world's best-known luxury brands with flagship stores that are also globally iconic stores.The 'icons within icon' concept was created by ICONSIAM to present luxury brands within duplex maisons inside the sensational ICONLUXE.More than 7,000 leading brands of the world and Thailand will have their presence in Thailand, many for the first time and with new concepts and special products exclusively at ICONSIAM."
He said, "To make ICONSIAM a new landmark of Thailand we asked brand owners to present their brand stories and integrate them into their store designs. We wanted ICONSIAM to be the first development to have the most exciting and most complete story-telling around the brands.Many world-famous brands have shown their confidence in ICONSIAM and collaborated to create store elements that are unique to ICONSIAM and at which visitors can enjoy a one-of-a-kind experience."
Among the 'first-ever' brands and stores is Siam Takashimaya.Takashimaya is a legendary department store from Japan that is highly admired.The group will have its first presence in Thailand and the Thai store has 36,000 square metres of floor space across seven floors. The Thai store will offer a wide variety of products for shoppers of every gender and age group.There are more than 500 brands, many being very well-known Japanese brands and more than 80 of them being made available in Thailand for the first time.The first Apple Store in Thailand will also open at ICONSIAM.The Apple Store at ICONSIAM is not just a store but a place where people will come together to exchange views, learn and create something new and seek inspiration as well as participate in hands-on sessions.@Cosme, the most successful cosmetics specialty store in Japan, is opening its first store in Thailand at ICONSIAM, too. H&M has its first glamourous presence in its own 3-storey triplex store. Other firsts include the first Urban Revivo store in Thailand; the first outlet in Thailand for world-class multi-brand sports fashion chain JD Sports; the first Nike Kicks Lounge in Southeast Asia and offering products that are very different from other Nike stores; Asia's largest Adidas Original Store; ICONACTIVE, a space for the ultimate in lifestyle that is beyond sports fashion on 1,350 squares metres and offering more than 40 well-known brands of clothes and accessories from around the world; and the first restaurant in Thailand for Singapore's best-known seafood chain Jumbo Seafood.
ICONCRAFT is an area of 2,500 square metres that presents Thailand's creativity at its best.It assembles a vast array of innovative art pieces and contemporary craftworks by Thais into a single place.It offers Thai artisans an opportunity to improve their craftsmanship to increase the value of their crafts by giving them better opportunity and space to exhibit and sell their crafts in a project that is destined to be the world's must-visit destination.
ICONSIAM also houses an empire of premium luxury automotive brands from many of the world's most technologically advanced auto makers that offer exceptional experiences, including Rolls-Royce, Maserati, Mini, BMW Motorrad, Porsche, and Toyota. And most exclusively, BMW is ready to showcase, for the first time in Asia, its automobiles using Virtual Reality (VR).Through special eyeglasses, the automobile is presented in virtual images. Settings can be adjusted to try on different features, change the background to daytime or nighttime, change the colour of the vehicle body, or walk around and even get inside the automobile.
Mr. Chaiwatsirikul said, "The ICONSIAM City Opening Mega Phenomenon during 9th to 11th November is the first and the greatest collaboration in history where Thai hearts are united to create a groundbreaking phenomenon on the Chao Phraya River.Visitors will be treated to a host of unforgettable shows and performances of national and global stature throughout the site in celebration of a new chapter in Thailand's history of destinations. In addition to the full range of iconic shows, ICONSIAM also has full-on promotions for shoppers from 9th November 2018 to 20th January 2019.Every shopper is eligible for Bht 20 million worth of prizes.For example, Bht 5,000 spent on shopping is eligible for a special-print mobile phone case, a spending of Bht 20,000 qualifies for a Siam Gift Card worth Bht 500, and Bht 1,000,000 in spending earns a Siam Gift Card worth Bht 50,000.A sensational special offer for 10th November 2018 is for every Bht 10,000 spent on shopping to immediately earn a Siam Gift Card worth up to Bht 10,000.And if you spend it with a OneSiam Kbank credit card, there is an additional Bht 10,000, totaling a maximum refund of up to Bht 20,000.And there are many other promotions in partnership with credit card service providers and other partners such as OneSiam Kbank, Kbank, SCB, Citi, GSB, Krungsri credit cards as well as TrueYou and TrueMoney cards."
Mr.Visit Malaisirirat, Chief Executive Officer of Magnolia Quality Development Corporation (MQDC), developer of the two super-luxury residential towers at ICONSIAM, said, "Magnolia Waterfront Residences is the most luxurious condominiums ever with a magnificent location right on the banks of the Chao Phraya River.The extraordinary 70-floor residential tower has 379 units.There is also 52-floor, super-luxury tower which is branded as 'The Residences at Mandarin Oriental Bangkok' and which is the first Mandarin Oriental-branded residential development in Southeast Asia.Both residential towers have become phenomenal success stories for Thailand's real estate industry setting unprecedented standards of quality and luxury.Their design and construction standards are equal to the best residential developments anywhere in the world's great metropolises such as London, Tokyo and Shanghai. Residences in both towers have set records as the most expensive residential developments and have become superb investments as well. Prices start at around Bht 85 million (US$2.58 million) for a two-bedroom condominium.The largest residence has 707 square metres and costs around Bht 460 (US$ 14 million)."