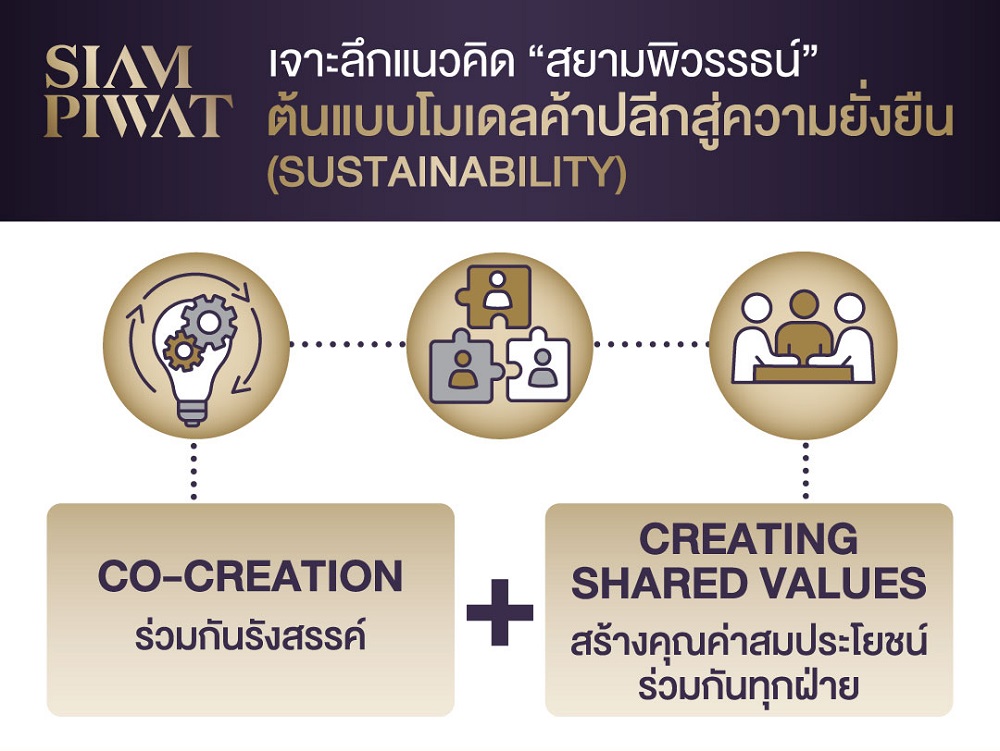 The uncertainty brought on by the COVID-19 pandemic has had an unprecedented impact on businesses, prompting every organization to quickly develop and switch up its operations to meet new needs arising from changes in consumers' lifestyles and behaviors. While Siam Piwat is among the organizations that have made adjustments to bring novelty, one thing that has never changed is its commitment to the vision of being a business that benefits a large number of people – a vision that Siam Piwat believes will be the business format of the future and has thus been incorporated into its business models and daily operations.
"Siam Piwat means an unceasing development of Siam. Since its establishment in 1959, one of its main aspirations has been to develop businesses that make contribution and bring value to communities, society, and the country. In these past few years, we have adopted the "Co-creating Shared Value" strategy, which seeks to bring about a business model that centers on human development through local wisdom and creativity and strives to bring benefits to people in all over Thailand across the supply chain and contribute to better quality of life and equality in society. This is embedded in the DNA of our business, and it is what we have been doing for a very long time," said Chadatip Chutrakul, the chief at the helm of Siam Piwat.
"Rather than carrying out activities on a piecemeal basis, we have consistently undertaken initiatives in order to cultivate the idea of passing on benefits to a wide range of people, foster sustainability in all dimensions, and promote development for mutual success in the long term. In addition, we collaborate with government agencies, private organizations, and communities to develop different retail business models where our venues are used as platforms for presenting products and services and help SME business owners develop every aspect of their business, from educating them on modern trade and markets to building a process that teaches them how to run a business, make savings, and develop products. We also partner with financial institutions to educate them on savings and investment in order to transform local heroes into global heroes, launching them into the global market," added Chadatip.
Siam Piwat has launched the following initiatives to assist and develop SME business owners:
ICONCRAFT: A space of inspiration and Thailand's largest platform for artisanal products from across Thailand
Siam Piwat launched the first ICONCRAFT on a 2,500 sq.m. area on the fourth and fifth floors of ICONSIAM in 2018 to create a space of inspiration that would serve as the largest platform for artisanal products from across Thailand and shed a new light on local Thai wisdom and handicrafts. ICONCRAFT has acted as a gateway to modern trade for more than 500 artisans and business operators, who are also given training on branding, marketing, and financial management. In only two years after ICONCRAFT opened its doors, many entrepreneurs have been able to expand their business and invited to showcase their products overseas. Given the roaring success, Siam Piwat has expanded the project and launched another ICONCRAFT site on the third flood of Siam Discovery, with the concept: "The creative inspiration platform for Thai craftsmen, to love, enjoy and be proud of modern Thai-ness." The second site features artisanal products from over 500 brands hailing from the 77 provinces across the country, presented under four themes:
Take Pride in Creative Craftsmen
ICONCRAFT introduces Thailand's local wisdom through the creativity of new generations of designers and features contemporary products that are rooted in the knowledge of the past. As such, it serves as a hub of innovative art and contemporary Thai craftsmanship never before seen elsewhere.
Support Thai Craft Community (Support & Co-Creation)
To support and collaborate with communities of craft enthusiasts, ICONCRAFT has developed a process where entrepreneurs can learn all about business. It also supports people with disabilities from across the country by providing a platform where they can demonstrate their talents and showcase their products.
Celebrate Thai Craftsmen Stories (Craft Hero)
ICONCRAFT pays tribute to the creative mind of master craftsmen who dedicate their lives to keeping local handicrafts alive, passing on the invaluable skills, and inspiring new generations of designers to convey the unique Thai identity in different contexts and venture into the global commercial market.
Inspired by creative craft product & activity
To serve as a wellspring of inspiration, ICONCRAFT hosts workshops and installation art exhibitions by master craftsmen, allowing everyone to get a hands-on experience with craftworks.
Ecotopia: An eco-community for health and environmental sustainability in the age of the new normal
With the determination to restore environmental balance and cater to the eco-conscious and health-conscious lifestyle of younger people in a sustainable way, Siam Piwat has transformed the third floor of Siam Discovery into Ecotopia, a place for those who share the belief that "we can make the world better together." As Thailand's largest eco-community, Ecotopia is ready to welcome everyone who wishes to start changing themselves and be a part of an eco-phenomenon in the heart of Bangkok. Catering to all aspects of sustainable living, Ecotopia brings together healthy and eco-friendly products that are reusable or recyclable and serves as a venue that gives everyone an opportunity to take part in creative projects, such as the "Together, We Co-Create a Better World" project, and other activities that raise environmental awareness all year round. Brought into existence by the creativity and expertise of 12 leading environmentalists from various fields, this is a space for people who wish to play a part in creating a society of happiness and sustainable growth on earth that strikes the right balance between innovation and nature. Ecotopia also features a zone where over 300 independent brand owners are given an opportunity to showcase their local products and handicrafts made from natural materials and generate income for their communities.
SOOKSIAM: A platform that creates business opportunities and develop the capabilities of local business owners towards sustainability
A new retail format located on the G floor of ICONSIAM, SOOKSIAM is an embodiment of the concepts of "co-creation" and "creating shared value." For the first time ever in the retail industry, over 3,000 local business owners and craftsmen from every province of Thailand are brought together in a single place to present the best of Thai products, resulting in a commercial ecosystem that is both efficient and sustainable. SOOKSIAM also helps each community further improve their products and provides a learning platform where they can learn about retail and wholesale mechanisms for exporting, omnichannel (a new marketing approach), and merchandise management in a system with related parties nationwide so as to benefit a wide range of people. Thus far, SOOKSIAM has successfully catapulted many small businesses to international markets, enabling them to gain more revenue and have the capital to further develop their businesses. These stories of success and opportunities have also incentivized younger people to take up the torch and carry on their family's business. In addition, Sook Siam Academy has been established to give the next generation of entrepreneurs an opportunity to learn from business owners in SOOKSIAM in a sustainable way.
"These projects are testament to the success of our business model, which is rooted in the belief that the co-creation of shared value is the key to human development and balance in the retail ecosystem, both of which are vital to stable and sustainable business operations in society," concluded Chadatip.