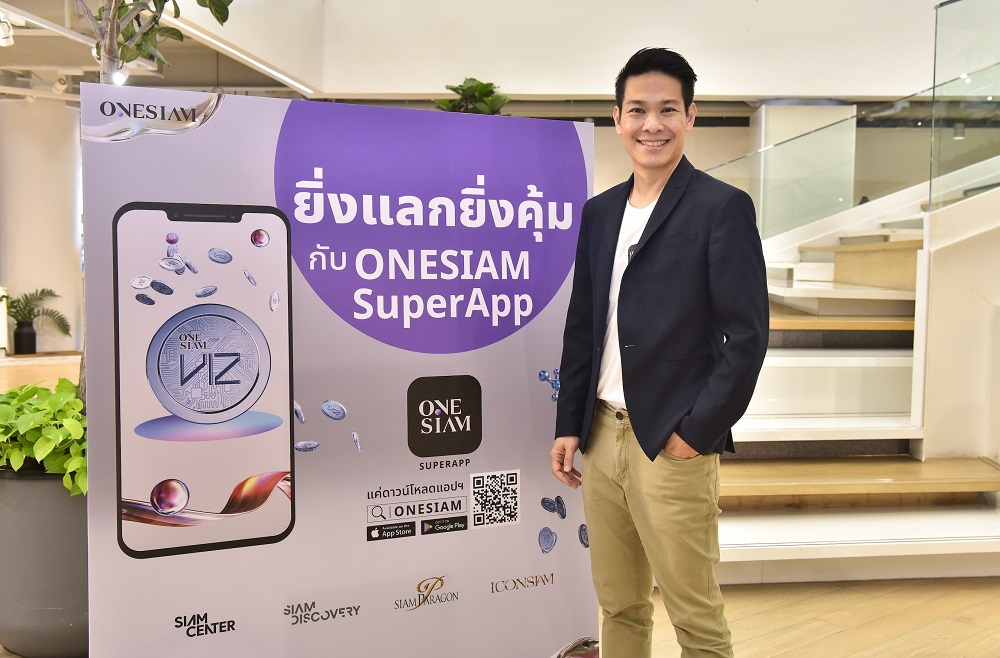 ONESIAM SuperApp is a digital platform that offers experiences beyond expectations as well as privileges, all in one place, that enables convenient shopping at anytime and anywhere. The app has received a positive response from business partners and has driven the expansion of the customer base to new generations and customers from the provinces. As it celebrates its first anniversary of success, the ONESIAM SuperApp continues to provide the best for its customers and a plethora of anniversary promotions throughout December.
The ONESIAM SuperApp provides engaging content for various lifestyles, as well as access to a variety of products, services and exclusive offers. It is also a digital CRM platform for collecting VIZ Coins, that can be used as cash when shopping at Siam Paragon, Siam Center, Siam Discovery, ICONSIAM, or via the ONESIAM SuperApp, giving customers a one-of-a-kind and convenient shopping experience. When customers join the ONESIAM community, they will be exposed to specially curated content created by leading luxury brands, world-famous brands, and business partners for hot trends, special collections. Users can also find information and updates on lifestyle, such as fashion, food, travel, and health care, through the app. Products and services available on the ONESIAM SuperApp have been carefully selected to meet the needs of target customers. Customers earn VIZ Coins with every purchase and can redeem accumulated points from various cards, such as credit cards, membership cards, and mileage points, for VIZ Coins to use as cash when shopping.
This year, the ONESIAM SuperApp has also expanded its collaboration with business partners to continue to provide unique experiences. For example, a collaboration with Cartier on the Clash de Cartier campaign and has also provided special insurance benefits to ONESIAM customers who travel with the ONESIAM Travel Club. Furthermore, it has partnered with the recently launched Google Wallet, the first in the retail industry.
Panthep Nilasinthop, Chief Customer Officer of Siam Piwat, said, "To celebrate the first anniversary of the ONESIAM SuperApp, we have launched a new service to cater to the needs of luxury shoppers. ONESIAM Chat & Shop allows customers to shop through a personal assistant who provides an exceptional shopping experience. Simply chat with ONESIAM Chat & Shop on the ONESIAM app and inquire about the products of interest. The customer service representative will inquire with the store about the product's information and availability. Once you've decided on a product, the staff will inquire about payment methods and delivery of goods, as well as provide some advice about promotions and special privileges to ensure you get the best value."
He added, "At the moment, more than 20 luxury brands have joined the service. Of course, when you use the ONESIAM Chat & Shop service, you will receive VIZ Coins, which you can accumulate and use to continue shopping. One VIZ Coin equals one baht. The ONESIAM Chat & Shop service is available every day from 10 a.m. to 7 p.m. via the ONESIAM app, allowing you to click, chat, and pay to get luxury products easily and conveniently, saving travel time and eliminating the need to queue in front of the store. Very special, shop between today and December 25, 2022, and you can get up to 5,000 VIZ Coins."
Furthermore, the ONESIAM SuperApp organizes a 1-year anniversary promotional campaign dubbed "ONENIVERSARY - The First Joyous Celebration," providing shoppers with a golden opportunity to enjoy a slew of exclusive benefits throughout December. These include special discounts, bonus VIZ Coins, and surprise gifts. There are also prizes for Top Spenders and many partner privileges for shoppers.
The ONESIAM app allows shoppers to discover new and superior experiences. Download now or click https://onesiamlink.page.link/chatshop-PR.