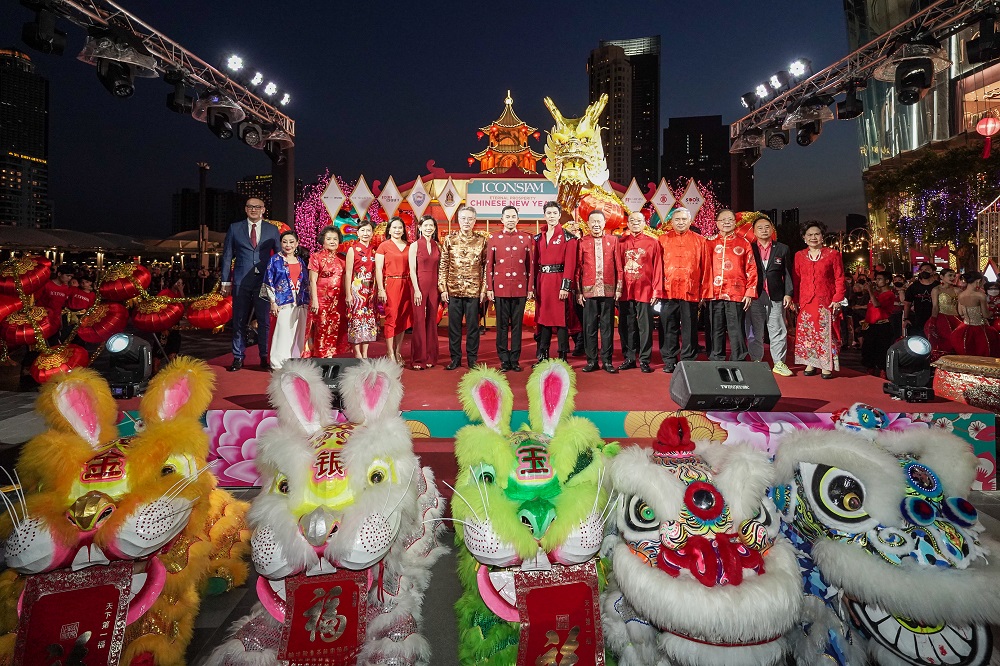 ICONSIAM, a global landmark of Thailand's prosperity and a must-visit destination of Bangkok, in collaboration with the Ministry of Culture, the Thai Chamber of Commerce and Board of Trade of Thailand, Jubilee Diamond, and B.Grimm S.Napa Solar Power Company Limited. organized "THE ICONSIAM ETERNAL PROSPERITY CHINESE NEW YEAR 2023" at River Park, ICONSIAM. The grand celebration aims to preserve culture and traditions of Thai people of Chinese origin as well as to attract tourists from around the world. The event is spectacularly designed under the concept of "Garden of Prosperity", embellished with mesmerizing light and auspiciousness Chinese lanterns that will light up the Chao Phraya River. Visitors will be enthralled by the exquisite performances, including the longest dragon lantern and Thailand's first auspicious rabbit dance and will be welcomed to worship the Replica of Chinese God Wong Tai Sin from China. Shoppers will be indulged with auspicious Chinese New Year products. The celebration runs from 18 to 24 January 2023.
The opening is joined by Minister of Culture Mr. Itthiphol Kunplome, Managing Director of ICONSIAM Mr. Supoj Chaiwatsirikul and partners, along with the famous actor Mr. Naphat 'Nine', Siangsomboon. The celebration began when the rumblings of drums, which is believed to ward off all evils, and ill luck. Actor Mr. Napat 'Nine' Siangsomboon wowed the crowd with a set of diamond jewelry from Jubilee Diamond weighing 515 carats with a total value of more than 180 million baht. The opening also featured an extravaganza including "The Beginning of Auspicious Year of the Rabbit," which included the first and longest dragon lantern in Thailand. The 108-meter-long, "the King of Dragon Lanterns," is an auspicious symbol to fight off evils and bring blessings, happiness, and peace throughout the year. This performance is a collaboration between Singapore's Stamford Dragon Lion Arts and Cultural Troupe and Thailand's Kungpak Dragon & Lion Dance Athletic. Also featured were "the Auspicious Rabbit Dance," Thailand's first rabbit dance, to welcome the year of the rabbit and bestow blessings for longevity, intelligence, wisdom, and agility, followed by a traditional performance, "the Chinese Fan Dance," which has a meaningful connotation of bringing happiness, prosperity, and wealth, and the final performance, "9 Lions 9 Auspiciousness 9 Great Fortunes." All Lunar New Year 2023 performances awaits visitors at River Park, G floor that offers only the "greatest" and "first" shows ever in Thailand and in the world.
To herald the Chinese New Year with prosperity, wealth and great fortune, all visitors are invited to worship the Chinese God Wong Tai Sin Replica from China, regarded as the most revered god of Guangzhou and Hong Kong, and make a wish for both good health and eternal wealth. Sacred "Hoo," the Chinese talisman, from Wong Tai Sin Temple is available by simply presenting receipts totaling at least 3,000 Baht from ICONSIAM stores and services (multiple receipts can be merged), with a daily cap of 100 privileges at Rassada Hall, 1st floor.
At Charoennakorn Hall, M Floor, enjoy Lunar New Year shopping for offerings - auspicious items, famous shops such as desserts, fruits, Chinese clothing in various styles such as traditional Chinese dresses and Chinese wedding dresses, accessories, home decorations, gifts to give to adults on Chinese New Year, and auspicious trees to enhance Feng Shui for wealth in the year of the Rabbit, as well as activities to welcome the auspicious, glorious, and wealthy Chinese New Year. Also on offer are Chinese New Year workshops by Hai Yang Jinbu Language and Culture School in collaboration with the Thailand Jinbu Ocean Silk Road Institute, which include writing auspicious Chinese characters, writing greeting cards, making red packets, making Chinese lanterns, and Chinese paper-cutting art to learn about various Chinese cultures, as well as interesting and worthwhile Chinese cultural performances and Chinese opera performances. This year's activities have brought faith, belief, and auspiciousness in line with the prosperity of ICONSIAM to restore happiness and vibrance.
SOOKSIAM, G Floor is celebrating the Chinese New Year 2023 with an event "SOOKSIAM Prosperous Chinese New Year" from today until 29 January 2023 under the concept of "The World of Happiness, Shopping, Paying Respect, Traveling, for the Whole Family." Experience the cultural charm and pay homage to Chaomae Thapthim (Tui Buai Teng Niang) or the Thapthim Goddess for wealth at Suk Suwan Sala Gate (Golden Gate). In addition, visitors will enjoy traditional and contemporary Hainanese dishes such as Hainanese Sukiyaki, Hainanese-styled pork belly boiled with salted fish and a rare dish of stewed goat in red sauce. Featured also are lion dance on the Mei flower pillar in the middle of the southern well, a spectacular Thai-Chinese cultural performance by the Ministry of Culture, and a Hainan puppet show by the Hainan Association of Thailand and the Thai Hainanese Trade Association, which is especially performed to raise funds for Chulalongkorn Hospital. Dear Tummy Lifestyle Supermarket, G floor, ICONSIAM has prepared a set of auspicious items for the convenience of shopping, both fresh and preserved products, and specially quality auspicious fruits. The auspicious ceremonial set for this year is available in both small and big sets. Pork belly, boiled chickens, stewed ducks, roasted ducks, pork legs, as well as quality seafood such as snapper and boiled shrimp that are supplied straight from Yaowarat, are also available. Also included are joss paper.
Enjoy delectable auspicious Chinese dishes at ICONSIAM, including the Emperor Clay Pot menu from JUMBO Seafood, Veranda zone, G floor, a variety of delectable dim sum dishes from Hong Bao, 5th floor, and many other legendary famous restaurants like KAM'S ROAST, Tasty Congee & Noodle Wantun Shop, Baan Khanitha the Heritage, AKIMITSU TENDON, etc.
"THE ICONSIAM ETERNAL PROSPERITY CHINESE NEW YEAR 2023," promotional campaign will please shoppers with special privileges worth more than 2.2 million baht, from 18 January to 19 February 2023. VIZ members who use ONESIAM SuperApp, for every 2,000 baht spent get a chance to win gold bars worth 1 baht, 10 prizes or 3,000 VIZ Coins, 20 prizes. Or receive up to 8,000 VIZ Coins (terms and conditions apply), as well as up enjoy to 16% cash back from participating credit cards. Super special!! only from 20 to 22 January 2023, VIZ members using ONESIAM SuperApp can redeem for more VIZ Coins.
For ICS Lifestyle Complex, ICONSIAM's an extension of happiness, celebrates the auspicious Chinese New Year with many entertainment activities: a mini-concert from famous artists, 'Earth Patravee', on Saturday 21 January 2023, and 'Som Marie' on Sunday 22 January 2023, between 17.30 and 18.30. From now until 22 January 2023, there will also be Chinese cultural performances alternately performed throughout the day and many more shows, such as the Chinese imperial fan dance, the thousand hand Guan Yin show and the Chinese dance.
Be a part of the great Chinese New Year celebration phenomenon in "THE ICONSIAM ETERNAL PROSPERITY CHINESE NEW YEAR 2023" from Today until 24 January 2023 at ICONSIAM, Charoen Nakhon Road. For more information, call 1338 or visit www.iconsiam.com.